Users of Mumsnet, a UK-based online forum, have been urged to end their marriage in an article about a mother who chose to "digest" her husband so that she would not have less access to her children in the event of a divorce.
In a post shared on Mumsnet's Am I Being Unreasonable (AIBU) sub-forum, user Nevisonspad revealed that she has been with her husband for over 20 years and has been married to him for 10 years. They have two children, 5 and 8 years old.
"After the kids were born he became more and more emotionally abusive. There are big periods where he won't speak to me for weeks at a time except to yell at me for being a vile and nasty person. I used to argue but now I barely deal with it. No. trigger, it doesn't make sense, he just gets into a mood and it goes on for weeks," the poster reads.
Her husband "doesn't have an alcohol problem and is a good dad besides everything he's given me," the user said. "I would have left him years ago, but I don't want to see the kids only half the time, I think if I divorce him, that's what will happen."
The wife asked: "Can I endure 13 years against him?" [the] time? I've come very close to leaving, I've even hired a lawyer, but I can't bring myself to do anything, which means I can't live with the kids 100 percent."
"My plan is to leave when my youngest son leaves home and to see the kids 100 percent, not 50/50, until then," she said.
According to the U.S. Census Bureau, both marriage and divorce rates in the country declined between 2009 and 2019, but the rates vary from state to state.
In a 2013 study published in a peer-reviewed journal Couple and Family Psychology: Research and Practicethe most commonly reported "major contributors to divorce" were found to be lack of commitment, infidelity, and conflict/argument.
According to the study, the most common "last straw" reasons were infidelity, domestic violence and substance abuse.
In a recent Mumsnet post, a user said: "I try to minimize the impact on the kids by staying cheerful and eventually he snaps and we're 'normal' for a while and then he starts calling me a piece of shit. again… he's just me, not the kids he shouts.
She said, "I know it's bad for the kids to see him yelling at me, but most of the time it's the silent treatment, and I try to minimize it to the kids by telling them that daddy's angry again. looks better than ranks).
said Holly Humphreys, licensed professional counselor (LPC) of Thriveworks, a counseling/therapy service in Roanoke, Virginia. Newsweek: "Over and over again I hear from my clients that people stay in marriages 'for the sake of the children.' Yet the children absorb everything around them. They absorb love, but they also absorb negative behaviors such as emotional abuse from their parents."
The LPC said continuing to stay in this relationship would "reinforce that it's okay to treat people this way and that it's okay to accept this kind of treatment."
Humphreys said there are ways to get help so the poster can leave the children and get full custody, especially if there is evidence of emotional abuse.
She said: "I can see that she is trying to do what is best for her children, but subjecting them to emotionally abusive and neglectful behavior is not healthy for them to witness and can cause a lot of trauma."
The LPC advised that the poster may want to seek therapy to see what resources are available for next steps. "He can't control it [her husband's] behavior but can control who has to tolerate it."
Divorce attorney Nicole Sodoma is the founder and author of the Sodoma Law Firm in North and South Carolina Please Don't Say You're Sorryhe said Newsweek: "Don't fall into the misconception that your children can't hear, see or feel how negative comments about their mother affect them and ultimately affect them.
"Not only can these behaviors change how they view their mothers (and other parents and authority figures in their lives), but they can be perceived differently by each child," she said.
"Knowing that you can't change another person," Sodoma, in a recent Mumsnet post, advised the user to "prioritize how to handle these high-conflict interactions." She can then teach her children age-appropriate coping skills that will help them manage conflict in a healthy way. do it.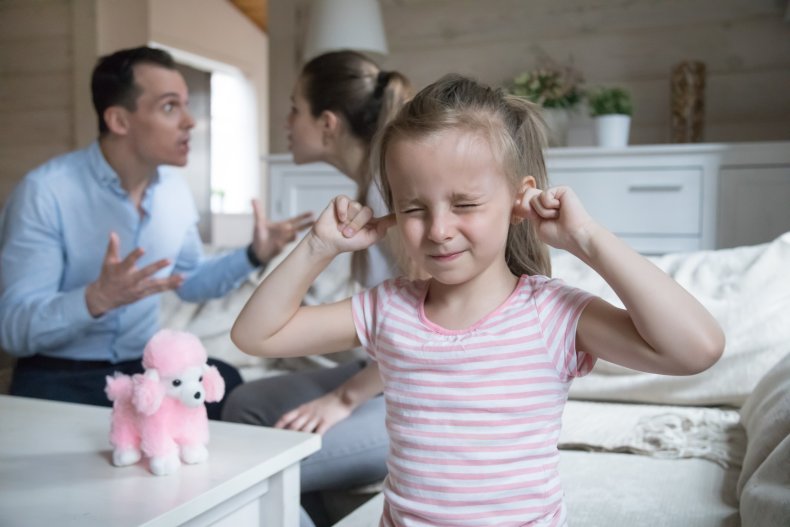 By doing this, "If you think separation and divorce are the answer, your kids will already have these coping skills so you can do the homework you might need to get to the other side of your relationship. Be a great wife, but still be a great parent."
The attorney also advised the poster to make sure you find the right legal counsel "who will be your voice and stand up for what's most important to you, telling you clearly what is possible, what is not possible or reasonable."
She said, "Your attorney should spend time today informing you of your options, whether you have a parenting schedule, how decisions will be made for your children (education, medical care, etc.), and what financial support may be required tomorrow for yourself and your family. so that you can make the best decisions."
Several users on Mumsnet urged the original poster to leave her husband.
User Aprilx said: "No, don't put up with this for another 13 years, you only have one life. I'm sure it won't go 50:50 anyway," while NoSleepTil simply said: "Please leave it."
Aquamarine1029 warned: "You are grossly minimizing the impact of this horribly toxic home life on your children's future…sorry to be blunt, but you are participating in the abuse they are suffering at this point. You have the option to leave. Do it now." "
User C***yMcBollocks said: "SHUT UP [you are being unreasonable] just because it will hurt your kids more in the long run…"
PolkadotsAndCandyfloss said: "You can't be miserable for so many years! You only get one life, what a waste… Leave before things get any worse – you don't deserve to be treated like this."
If you think you may be a victim of abuse, call 1-800-799-SAFE (7233) or 1-800-787-3224 TTY. Or chat with someone online at TheHotline.org, the National Domestic Violence Hotline advises.
Have a similar marriage dilemma? Let us know via life@newsweek.com. We can ask experts for advice and your story can be featured Newsweek.