2022 has been an ugly year for growth stocks. And for many of them, it will get worse (as the pandemic bubble continues to burst). In this report, we focus on the 100 best growth stocks the financial metrics we consider most important in the current market environment (ie, how they perform with higher interest rates). We have a special focus on Amazon (NASDAQ: AMZN), comparing it to peers on the same financial metrics, but also looking at its specific business fundamentals, including competitive advantages (not just scale and Amazon Web Services, but also subscriptions like Prime and its growing advertising business), risks and valuation. We conclude with our strong opinion on Amazon and investing in select growth stocks in the current market environment.
100 Growth Stocks, Ranked
Before we get into the details on Amazon, here's a top-level ranking of the 100 best growth stocks (see below). To get into that table, we needed at least a 10% expected growth rate for the next year (many of them are higher) and a market cap of at least $5 billion. We also limited the chart to the three worst-performing market sectors in 2022: Technology, Communications and Consumer Discretionary.
A big theme behind this chart is that profitable businesses (those with positive net income margins) outperform unprofitable ones (as you can see in the chart below). This has a lot to do with rapidly rising interest rates (higher rates mean that financing growth is more expensive, future earnings are discounted more, and economic growth is slower; not to mention issuing new shares, which are less attractive to businesses now that stock prices are falling . Significantly). The table is sorted alphabetically by symbol.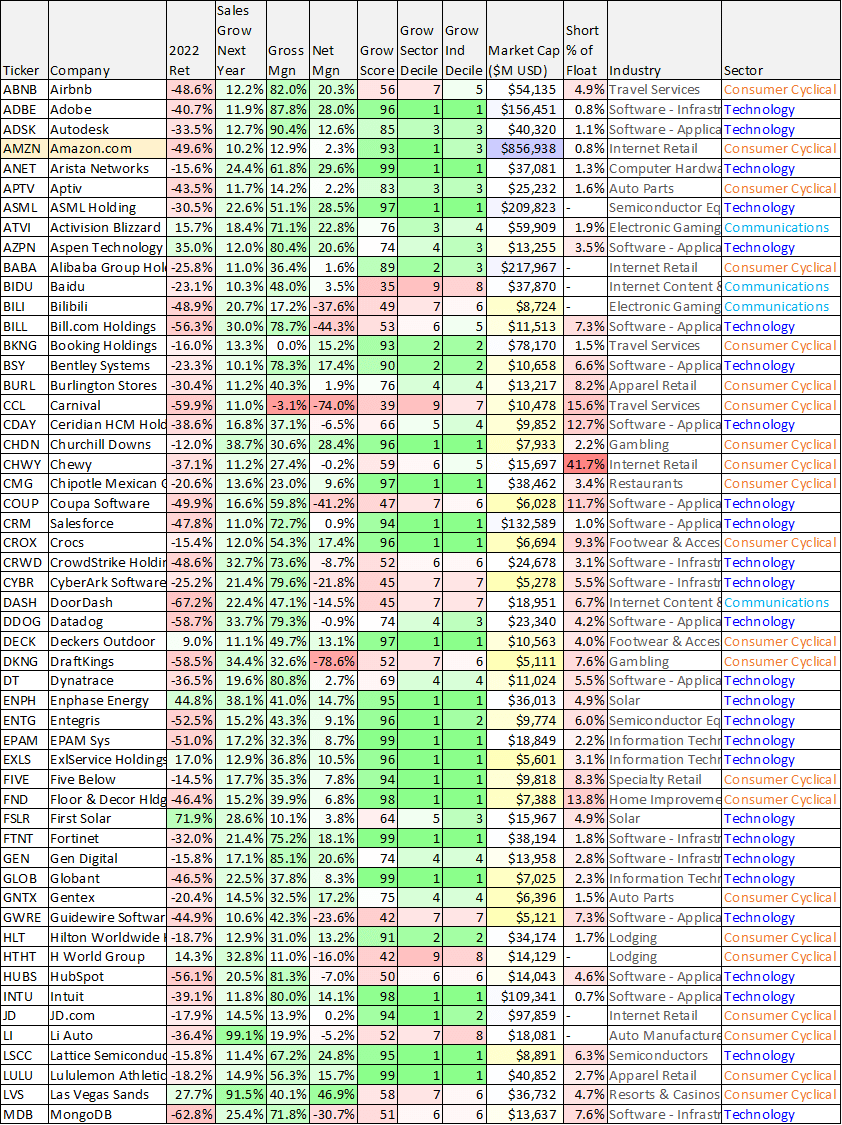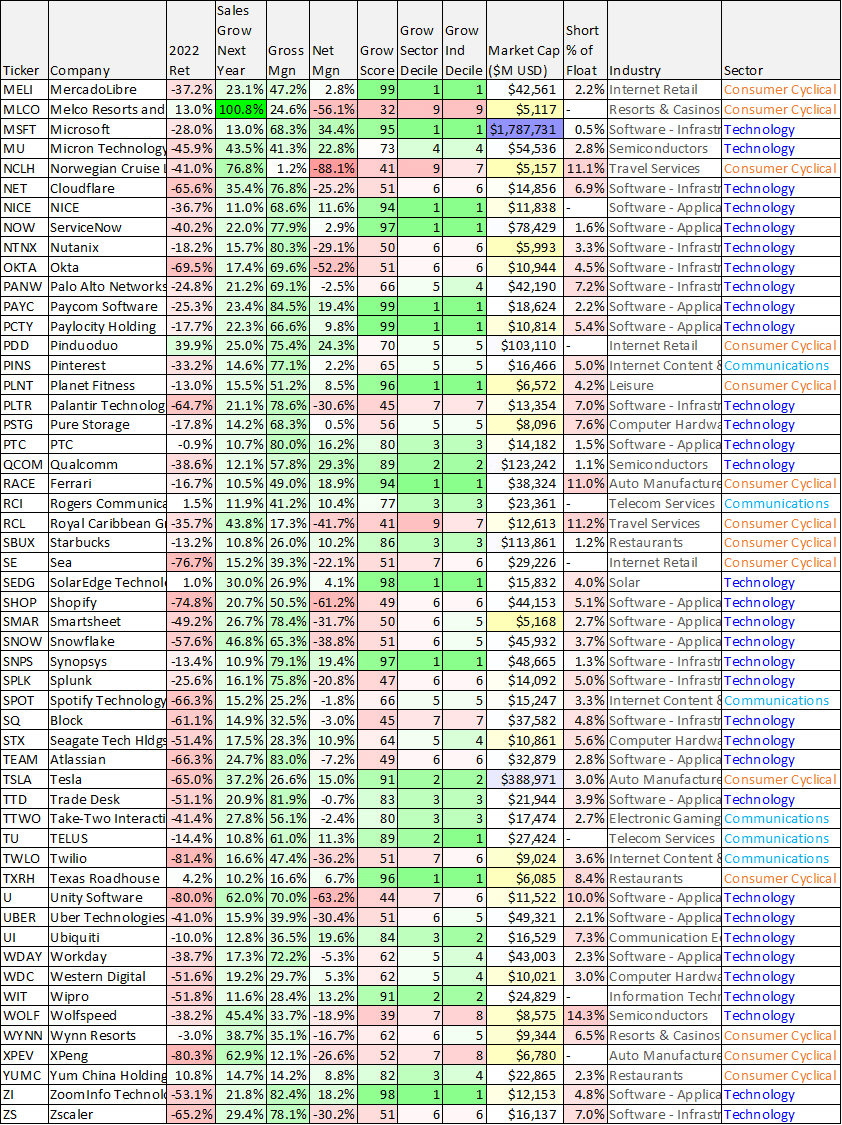 (ASML) (BABA) (CRM) (DDOG) (EPAM) (QAR) (SHOP) (SE) (NET) (TTD) (PAYC) (PLTR) (SQ) (SPLK) (NOW) (CRWD) (ENPH ) ) (FTNT) (MELI) (CHOVLUSH)
For reference, the growth indicator in the table looks at 5-year history for EBITDA, Sales and EPS growth, as well as future estimates. The best companies score 100 and the worst scores 0. We also included sector and industry growth deciles (1 best, 10 worst) to make the scores more comparable. Chances are you recognize at least a few of your favorite growth stocks on the list.
You may have also noticed that Amazon, one of the most famous and widely recognized business names in the world, is down ~50% in 2022, but still holds a good position in the chart.

Amazon Business Overview:
If you don't know, Amazon divides its business into three segments (North America, International, and Amazon Web Services), but that's a bit of a disservice to analysts, given that 100% of profits are generated by AWS. A geographic division of North America and International retail that generates essentially zero revenue on a segment basis, but has very profitable and growing sub-segments within those segments (primarily subscriptions such as Prime and a growing ad business). Future growth and earnings drivers. Most of Amazon's revenue comes from North America (~60%) and International (~27%), but virtually all profits (100%) currently come from its third segment, AWS.
Competitive Advantages:
Amazon has major competitive advantages over its peers, which derive from large economies of scale (allowing it to provide low-cost services) and network effects, as described below.
(e.g. Amazon collects all kinds of data about users to help with their advertising efforts).
Amazon Web Services ("AWS"): For starters, AWS is the leading provider of cloud services (with Microsoft Azure ( MSFT ) and Google Cloud ( GOOGL ) leading the way), and this segment has huge long-term growth potential fueled by ongoing digital transformation and migration. in the cloud (a major long-term global trend that has slowed in recent months but is still just beginning in terms of long-term opportunities).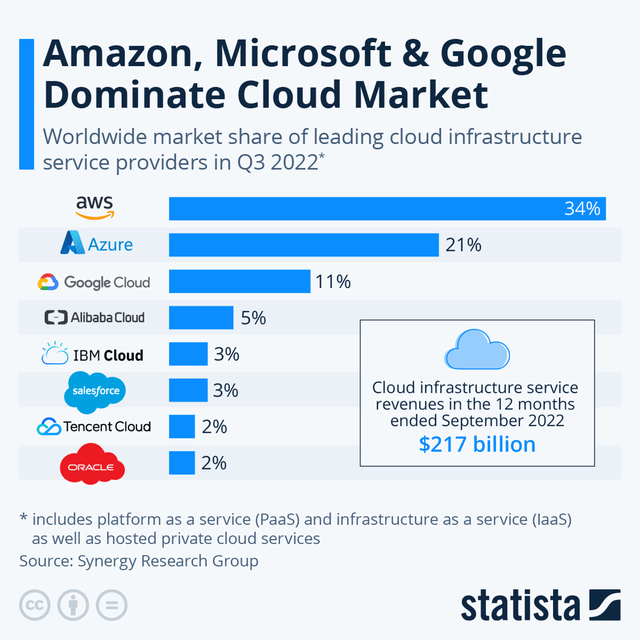 For some prospects, the cloud opportunity is expected to grow dramatically over the next five years (and significantly more in the years to come), as shown in this next chart.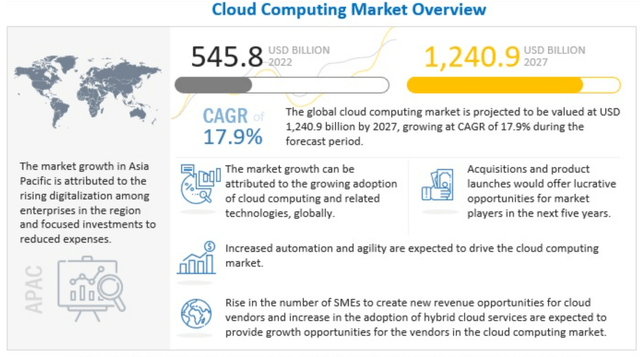 Advertising: And while AWS is the only profitable of the three main segments, advertising is a smaller but higher-margin business that already has some scale and more room to continue growing. Amazon advertising is special because it naturally has tons of eyeballs (i.e. people already using the Amazon platform) and access to extensive proprietary data (including real-time data). It is these network effect advantages (existing eyeballs, unique proprietary data, and scale) combined with significant room for continued growth that make Advertising an important future growth driver for Amazon.
Amazon Prime: Prime memberships are also special to Amazon because they help attract sticky customers and generate high-margin recurring revenue. Amazon Prime is basically a subscription service ($139 a year) that includes fast shipping, exclusive sales, free movie streaming, and free access to Amazon's 100 million song music catalog. Plus, Prime helps attract users into the ecosystem, and once they're in, they use Amazon more than they used to, and they're less likely to leave (i.e., improve customer retention).
Amazon retail: The Amazon website and retail business is the first thing that comes to mind for many people. What is important to note about this business is that it has great revenues but very narrow profit margins. However, it is a critical part of the ecosystem because it brings people to Prime, creates an advertising platform, and leads to the creation of AWS (Amazon had a huge advantage over other cloud providers because it already had a large cloud experience built on its own web – in improving the site).
Overall, Amazon's impressive ecosystem and scale have created huge competitive advantages (as well as strong cash flows for innovation through research and development) and will help the company succeed in the years to come.
Amazon Risks:
Market period: Amazon faces risks. For starters, the market was disappointed by Amazon's latest quarterly earnings announcement (which saw the stock sell off sharply) and slower-than-expected growth in AWS as the fallout from pandemic-driven social distancing (and working from home) continues to wear off. Moreover, this negative trend may continue as overall economic growth slows and the potential for an ugly recession continues to loom. In addition, there are reports that Amazon is preparing to cut up to 20,000 jobs in the coming months (a recent trend among large tech-based companies); This is encouraging from a proactive cost control standpoint, but concerning and indicative of the potentially difficult road ahead.
Foreign currency: Another risk is foreign exchange exposure, which has recently been negatively impacting profits from negative translation effects. The degree and pace of post-pandemic monetary policy changes and lock-in policies have contributed to a dynamic foreign exchange risk environment.
Regulation: Regulatory pressures are another risk for Amazon. In particular, "big tech" companies (including Amazon) are facing increasing pressure over anti-competitive practices as well as data privacy issues. For example, in 2021, Amazon was fined a record $888 million for data breaches. Regulatory pressures are a constant risk for Amazon.
Cloud competition From Microsoft (gaining ground on AWS) and Google are also risky. However, given the scale of the massive cloud secular trend, there is room for many big players to succeed, and the cloud will likely be a leading profit driver for at least the next decade.
Evaluation:
Don't be fooled by Amazon's low net profit margin (see chart below). It is primarily a high-volume, low-net-margin retail business. And this high-revenue retail business creates huge economic moats and network effects that fuel its other profitable high-growth operations (AWS, subscriptions and advertising).
Currently trading at less than 2 times sales (the low end of its historical range), and with revenue expected to grow (and continue to grow) by nearly double digits (based on massive long-term secular trends), Amazon is extremely attractive. the fact that it's growing at a slightly slower rate than most analysts previously expected (because they over-extrapolated the short-term "pandemic shock"). It is also worth noting that Amazon spends a lot of money on research and development, which can be reduced at any time to increase profits, but remains important for future growth.

Moreover, the Fed's aggressive rate hikes this year have had a particularly negative impact on high-growth stocks (see performance in the charts above). We believe these factors help explain the share price decline, and also contribute to the attractiveness of the investment opportunity, as inflation will eventually slow, the Fed's aggressive hawkish policy will moderate (hopefully sooner rather than later), and Amazon will continue to grow rapidly for many years. .
The result
Growth stocks including Amazon (down ~50% in 2022) have been hit particularly hard by rapidly rising interest rates. As we wrote in our new 2023 forecast: 10 stocks worth considering:
We may be at the very early start of a new long-term market paradigm where near-zero interest rates have been around for decades, and that could be the incredible leadership and performance of growth stocks.
However, as higher interest rates push yields further into the future (and perhaps never), many of the high-growth pandemic darlings that have already fallen so hard may yet fall.
However, Amazon is one of the select growth fund leaders that is already profitable and has the financial wherewithal to ride out the significant capital market challenges that many (unprofitable) growth stocks will face in the coming years. We don't know where the market will be next week, next month, or at the end of 2023, but long-term Amazon (and select financially strong growth stock leaders) will likely trade dramatically.
Editor's note: This article discusses one or more securities that do not trade on a major U.S. exchange. Be aware of the risks associated with these stocks.