Alberta estimates that approximately 489,000 Albertans living in 201,000 households do not have access to the federal target speed of 10 Mbps for uploads and downloads of 50 megabits per second (Mbps).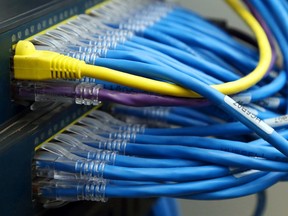 Content of the article
An $8.1 million funding agreement between the Canadian Infrastructure Bank and an Alberta First Nation-led company will help connect an estimated 24 Alberta communities to new high-speed internet infrastructure.
Content of the article
Construction has already begun to connect underserved households in 20 indigenous and four rural communities to new internet service, the Canadian Infrastructure Bank (CIB) said in a news release Thursday. The deal is part of the Local Community Infrastructure Initiative, which offers loans to local infrastructure projects.
Content of the article
Alberta-based Arrow Technology Group will be responsible for the construction, installation, operation and maintenance of the new service with prospective speeds of 50-300 Mbps and unlimited data.
Arrow spokeswoman Monica Burman told Postmedia Saturday that specific community projects that will benefit from the loan have not yet been announced, but the loan will allow the company to pursue more than one major project at a time.
Content of the article
"(It) will allow us to complete multiple projects in multiple communities," Burman said.
According to Arrow's website, the company already provides broadband services to 73 communities across Alberta, 49 of which are First Nations communities or Métis settlements and 24 are rural towns.
It lists future fiber-optic projects that will provide better direct-to-home broadband services this year in Whitefish #128 (Goodfish) First Nation, Louis Bull Tribe, Child Lake 164A, Boyer River 164, Peerless Trout First Nation, Garden. River – Little Red River Cree Nation, John D'Or Prairie – Little Red River Cree Nation and Fox Lake – Little Red River Cree Nation.
Although the Alberta government announced $390 million over four years for high-speed internet access through the Alberta Broadband strategy, Burman confirmed Arrow's projects under the CIB loan did not receive money from the province.
Content of the article
The CIB's funding comes on top of grants from the federal government's Universal Broadband Fund Rapid Response Stream, the Canadian Radio-Television and Telecommunications Commission's Broadband Fund, and Canada's Connecting to Innovation, Science and Economic Development program.
Indigenous communities benefiting from broadband include Treaty 8 and Treaty 6 First Nations, as well as Métis settlements, marking CIB's first investment in addressing infrastructure gaps within Métis communities.
Alexander First Nation Chief George Arcand Jr. said that ensuring access to the same resources and opportunities as the rest of Alberta means a brighter future for those left behind.
Content of the article
"The Internet has the power to equalize access to resources and knowledge for local communities. The success of these projects, delivered by the Canadian Infrastructure Bank and Arrow Technology Group, will have a lasting impact," he said in a statement.
The provincial government estimates that about 489,000 Albertans in 201,000 households cannot use the federal target speed of 50 megabits per second (Mbps) downloads and 10 Mbps downloads.
Ottawa is spending $41 million to boost internet speeds in rural Alberta

'No-go zone': Alberta Premier Smith says civil servants are searching for emails reported to prosecutors
About 80 percent of indigenous communities and 67 percent of rural and remote communities lack access to reliable, high-speed Internet.
CIB CEO Ehren Cory said the funding will create new economic opportunities and support public services such as health and education.
Federal Liberal Tourism Minister, Associate Finance Minister and Edmonton Center MP Randy Boissonnault said high-speed internet is a necessity, not a luxury.
"More and more services are now online, and all Canadians need a reliable connection to access government services, pay bills and talk to family and friends," he said.
lijohnson@postmedia.com