Hundreds of students attend a rally in support of school choice hosted by the Utah Association of Public Charter Schools at the Capitol in Salt Lake City on Monday. (Kristin Murphy, Deseret News)
Estimated reading time: 6-7 minutes
SALT LAKE CITY — A Utah bill that would create a school choice stipend (also called a school voucher) and increase teacher pay was introduced to the full Senate on Monday as rallies were held in support of and against HB215.
The bill passed the Senate Standing Committee on Education Monday afternoon after more than two hours of hearings from both sides of the debate and will be sent to the Senate for a final vote.
The vote on the bill was 7-2, with Sen. David Hinkins and Sen. Kathleen Riebe casting the two votes against it.
Earlier, nearly 1,000 charter school students from Logan to St. George descended on the Utah Capitol Rotunda on Monday to rally and advocate for school choice.
"Charter schools continue to grow year after year because parents want more choices. They want to match their child's education with a particular school," said Royce Van Tassell, executive director of the Utah Association of Public Charter Schools.
This option consists of parents placing their children in hands-on Montessori schools, including schools with a special focus on sports, performing arts, and science or technology, among others.
The Utah Education Association held a press conference at the Capitol on Monday at 5 p.m. Those opposed to HB215 wore red and chanted "Public money, public schools."
"Public money for public schools!" Chants before press conference against HB215. Now it's happening in the capitol. pic.twitter.com/LSpWCrJJzz

– Utah Education Association (@myuea) January 24, 2023
Monday's pro-voucher rally coincided with National School Choice Week, which will host more than 26,000 school choice events in all 50 states to raise equitable and positive awareness of traditional public, public charter, public magnet, private, online and others. Homeschooling options are available for families, according to the Utah Association of Public Charter Schools.
The Utah Association of Public Charter Schools is a 501(c)(3) nonprofit organization dedicated to promoting excellence in public charter schools throughout the state through self-advocacy, training and technical support.
Utah Governor Spencer Cox attended a rally on Monday to express his support for school choice.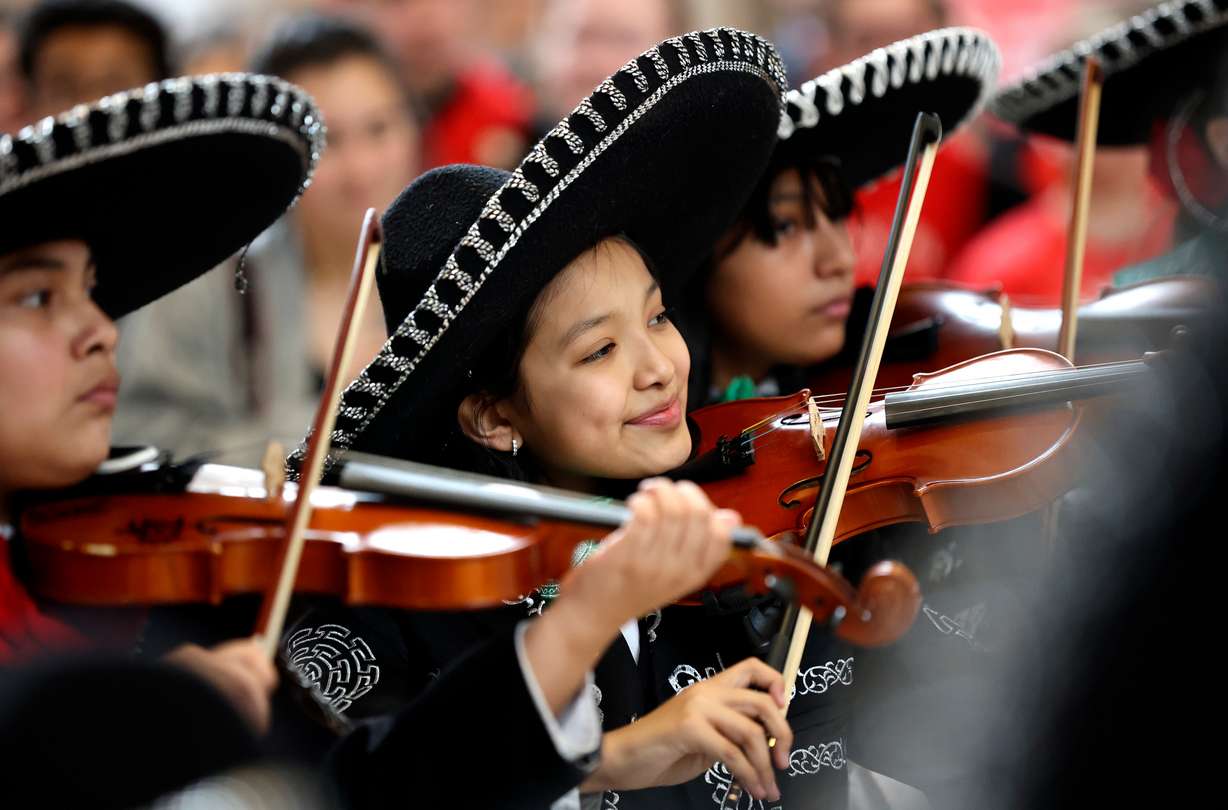 "When I spoke to the Legislature last night, I talked to them about the next generation — making sure our state is a better place for you than it was for your parents and grandparents," Cox said. "It's through education. We know that education makes us better people. It's going to make you a better adult, it's going to help you get a great job. Most importantly, it's going to help solve all the problems we face here. In Utah ."
He stressed the need for good teachers, adequate teacher salaries and a generally "great" education system.
"The charter system helps us do that. You have choices that your parents make that make it better for you and your families," Cox said. "I just want you to know how much we love you, how much we love our charter schools, and how committed we are to making sure that in Utah we have the best education system in the world."
Cox also issued an official proclamation declaring Jan. 23-29 as Utah School Choice Week.
The rally and the first day of Utah School Choice Week coincidentally coincided with the day the Utah State Board of Education called a special meeting to vote on HB215.
The council voted 10-5 against the current version of the bill.
The bill would extend an $8,000 stipend to families seeking private education services and a $6,000 reimbursement to teachers.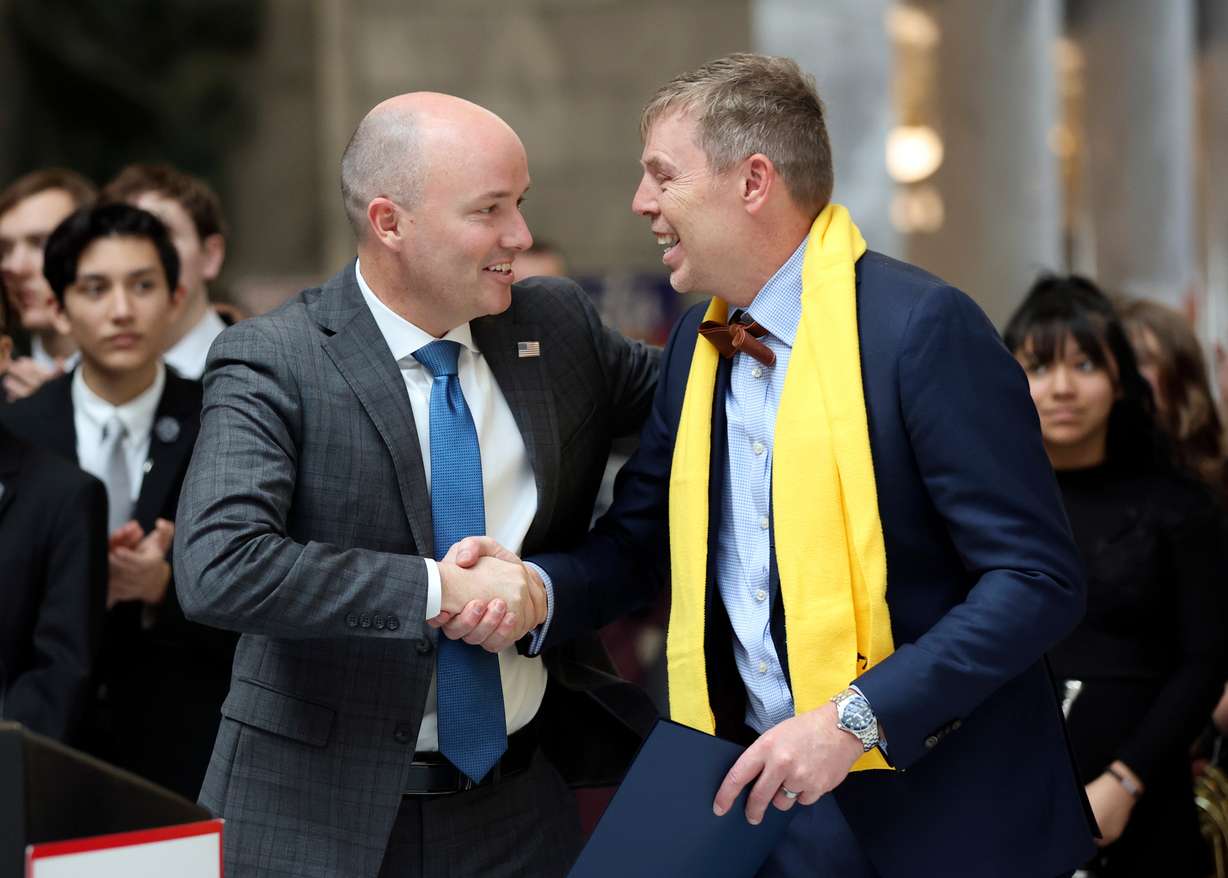 "Some of the issues raised by council members included questions about the lack of confidentiality of student information, oversight of the program and the process of drafting and debating the bill. Many council members also acknowledged frustration that educators and schools did not deduct from the increase in teacher salaries. The scholarship program," – said in a statement from the board of directors.
Interestingly, Van Tassell said he and the Utah Public Charter Schools Association "may be the only organization in the Capitol that is officially neutral (on HB215)."
Prior to the board's vote, Utah State Board of Education member Carol Lear, a Democrat, told KSL NewsRadio that if the board voted against the bill, "it would give the legislature, whether it noticed or not, the public education watchdog over private schools, religious schools and (and) does not support sending public money to schools that do not have the same oversight as public schools."
Lear said the board wants to vote on the bill to confirm to its education partners that they oppose the bill.
"(We want to say) to the Local School Boards Association, the PTA, the UEA, all the school districts, the superintendents, we stand with you. This is not going to be a good thing for the local schools," Lear said.
The bill's sponsor, Rep. Rep. Candice Pierucci, R-Herriman, posted a Twitter thread last week arguing the benefits of the school voucher.
Yesterday was a historic day for the Utah House with the passage of HB 215! I wanted to clarify a few things and answer the questions I received about the bill.🧵

⭐️This bill does two important things… pic.twitter.com/8sMbqvxQZG

— Candice B. Pierucci (@CandicePierucci) January 21, 2023
On Monday, Utah House Speaker Brad Wilson also took to Twitter to express his support for HB215, a bill he said strengthens the ability of teachers to make commitments to their students and parents to do what's best for students.
Utah students thrive when skilled teachers are committed to their success and parents are empowered to do what is best for them. HB215 strengthens both elements. #utpolhttps://t.co/zeqzSCvQNq

— Speaker Brad Wilson (@BradWilsonGOP) January 23, 2023
Lear said the biggest "umbrella objection" to the bill is that "private schools are taking public money that should be going to public schools."
"I (also) don't like teacher pay raises just being cynically attached to a check," Lear said.
He added that the bill also gives him financial responsibility to administer and oversee the scholarship program, despite "zero discussion" with the board.
"Maybe the board is set up to crash and burn in terms of control."
Lear also argued that the bill allows for discrimination in determining who is prioritized for scholarships.
"The only anti-discrimination measure (in the bill) prohibits discrimination based only on race, color and national origin," Lear said. "They can discriminate against children with disabilities, poor children on the basis of gender; theoretically they can take all the boys and not the girls," he said. "They can discriminate against kids with minor discipline problems and kids with none at all."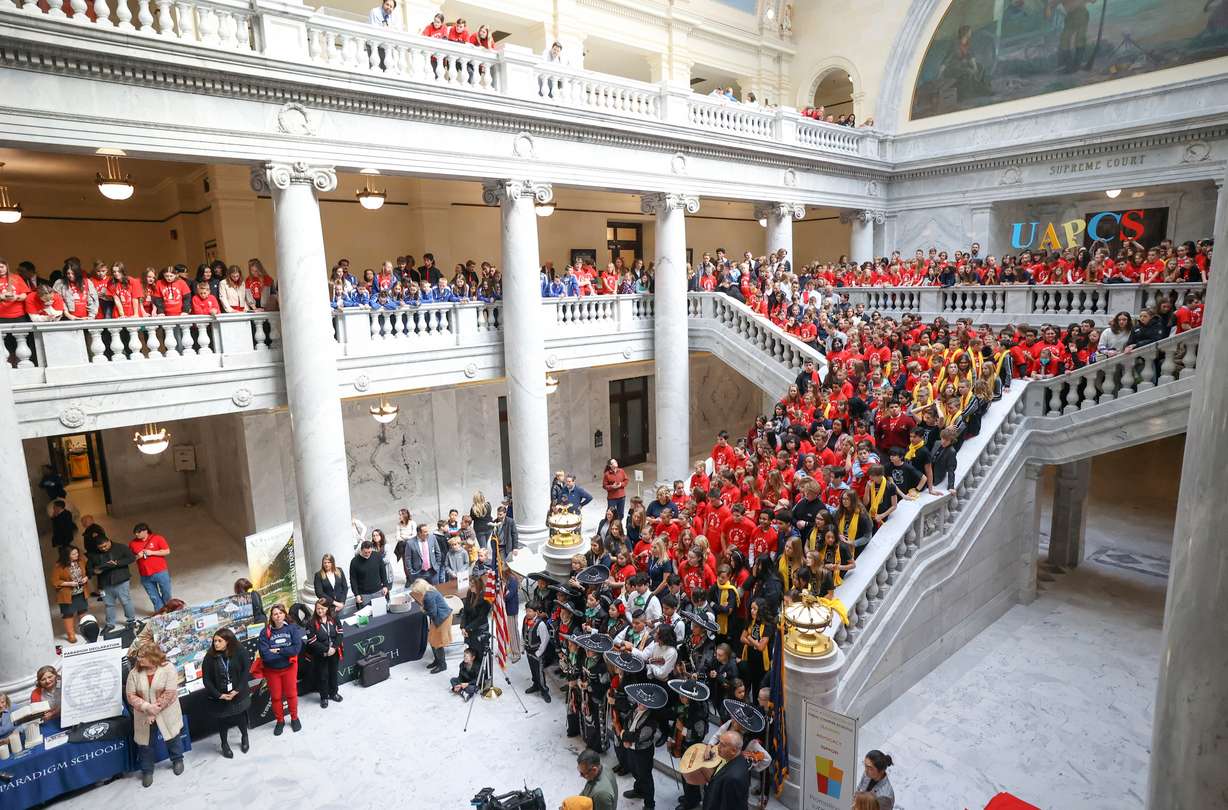 In a release announcing the Utah State Board of Education's decision to vote on the bill, the board said it compiled a list of questions and comments sent to the bill's sponsors last week.
"The council expressed a desire to continue working with the Legislature to provide input on how the bill can be improved," he said.
In an interview with KSL NewsRadio on Monday, Senate Majority Assistant Whip Kirk Cullimore, R-Sandy, co-sponsor of HB215, "doesn't expect to see any amendments to this particular bill, but there are some other bills." may apply to educational and similar programs on which we may make some changes."
As for separating teacher pay raises from the scholarship program, a complaint the board voiced when it voted against HB215, Cullimore said "probably not" when asked if there was any consideration for separating the two.
"The message from the governor's office, whether it was a clear intention or not, was to support school choice if we could get teachers' salaries up to where they are," he said.
Contribution: Lindsay Aerts
×
Pictures
Related stories
The latest stories from the Utah Legislature
You may be interested in more stories