This has been expected for some time, but today the Department of Justice and eight states are suing Google over its alleged dominance of the online advertising market. There is a problem with the government's position on Google's "ad technology," or the tools used to automatically match advertisers with website publishers. To address this, the DOJ apparently told Google it was considering breaking up the company.
"Today's complaint alleges that Google used anticompetitive, exclusionary, and unlawful conduct to eliminate or substantially reduce any threat to its dominance of digital advertising technologies," said Attorney General Merrick Garland. "Regardless of industry or company, the Department of Justice will vigorously enforce our antitrust laws to protect consumers, protect competition, and ensure economic fairness and opportunity for all."
The press release gives a brief description of what the DOJ has a problem with:
Google's anti-competitive behavior includes:

Acquiring competitors: Engage in purchasing patterns to gain control over key digital advertising tools used by website publishers to sell advertising space;
Mandatory Adoption of Google Tools: By limiting unique, must-have advertiser demand to its own ad exchange, tie website publishers to its newly acquired tools and in turn provide effective real-time access to its own ad exchange using its own publisher's ad server;
Distorting Auction Contest: Limit real-time bidding of a publisher's inventory to its ad exchange and prevent rival ad exchanges from competing on the same terms as Google's ad exchange; and
Auction Manipulation: Manipulating auction mechanics on a number of products to isolate Google from the competition, deprive competitors of scale, and stop the rise of rival technologies.
Google is the largest digital advertising broker in the US, but not by much. Axios reported that Google accounts for 28.8 percent of all U.S. digital ad spending, followed by Meta with 19.6 percent. There are many companies with a lot of growth potential, such as Amazon, TikTok, Spotify, and Apple, but for now, these companies only focus on their specific platforms.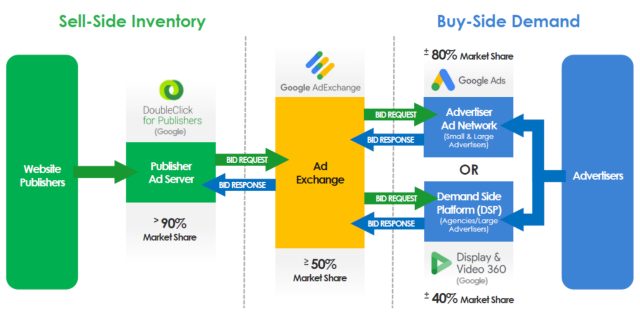 However, it's not the overall market share that the DOJ is concerned about: It's the market share of the individual tools used by publishers and advertising companies. On the "sell-side" (the side of websites that have ad space to sell — like this one), the DOJ said Google's "DoubleClick for Publishers" ad server has more than 90 percent market share. On the "buy side" (the side of advertisers looking for space for their ads), the Google Ads network for small businesses has an 80 percent market share, while Display & Video 360 for large ad agencies has a 40 percent market share. percent market share. Google Ad Exchange, which matches sellers and buyers, has a 50 percent market share.
As for the settlement, the DOJ says: "To correct Google's anticompetitive conduct, the Department is seeking, on behalf of the American public, both equitable relief and treble damages for damages caused by federal government agencies overpaying for web display advertising. This enforcement action is the Department's civil It is the first antitrust case in nearly half a century to seek damages for an antitrust violation." Basically, he wants Google to pay him back.
Google has published a blog post saying it disagrees with the government's latest antitrust lawsuit. After the usual tidbits that the market is more competitive than the bidder thinks, he adds a new threat not mentioned in the press release: "The DOJ is asking us to cancel two acquisitions that have been under review by US regulators over 12 years. ago (AdMeld) and 15 years ago (DoubleClick). By seeking to reverse these two purchases, the DOJ is trying to rewrite history at the expense of publishers, advertisers and Internet users."
It's hard to believe that Google will ever collapse. We often hear about the threat, but the last time the government broke up a company was nearly 40 years ago. That time, telephone company, Bell Systems, which eventually became AT&T, Verizon, and Lumen Technologies/CenturyLink/Qwest. The U.S. government's willingness to regulate companies has since waned, and today the threat is usually just a starting point for negotiations.
Prior to this lawsuit, Google told the DOJ last year that it would be willing to "unbundle" its advertising business by moving a unit from Google to parent company Alphabet. It's a move that seems unlikely to register when Google and Alphabet have the same CEO, CFO, stock code, and all share the same (huge) pile of cash.