Dr. Peter Marks, the Food and Drug Administration's vaccine chief, said he is well aware that uptake of the COVID-19 booster for the last shot allowed by the government Thursday morning for children younger than 6 months may be low, but he said. ABC News hopes its increased access could lead to some children getting more protection against the virus before winter, when infections can be more common.
The updated bivalent booster, which targets many new strains of the virus, will likely be available for the youngest children as early as next week, Marks said in an interview. This age group is the last group eligible for the new amplifier.
So far, according to the Centers for Disease Control and Prevention, less than 10% of children under the age of 5 have received the primary COVID-19 vaccine — meaning there's a very small pool of children even eligible for boosters. But Marks hopes those vaccinated children will receive their boosters soon and that unvaccinated children will be encouraged to get their first series.
"The whole point of today's action is for parents who decide to take advantage of the fact that we have a vaccine that can help prevent the worst outcomes from COVID-19, like hospitalization and death … The benefit of having the most up-to-date version of the vaccine, two vaccines," Marks said.
"I hope that this is also an opportunity for the 90% of parents who have not vaccinated their children in this age group to think about it. Because not being vaccinated puts a person at risk of the worst consequences from COVID-19," he added. .
Under the new authorization, children younger than 6 years old who received the Moderna vaccine can receive a bivalent booster at least two months after the first vaccine series.
For children younger than 5 who receive the Pfizer vaccine, it's a little different: Children can receive a newly approved bivalent booster instead of the third vaccine in the Pfizer series for younger children. And going forward, any young child who receives the three-shot Pfizer series will receive two main shots and then a bivalent booster.
More broadly, vaccine uptake for the youngest age group has traditionally been much lower than for other groups throughout the pandemic.
And even for the older age groups, booster uptake was very low during the three months the divalent shots were on the market.
According to the CDC, only 13% of people over the age of 5 received a bivalent booster. The rate is highest for people over the age of 65, who have increased by about a third.
Anyone over the age of 12 became eligible for bivalent boosters in September, provided it had been three months since their last vaccination. Then in October, eligibility was extended to anyone over the age of 5.
Now, in December, 6-month-old babies are also eligible.
Public health officials have long hoped that the arrival of cold weather and flu season would provide a natural incentive for people to get updates on both flu shots and COVID-19 boosters.
But that bump in COVID-19 shootings hasn't exactly materialized, Marks acknowledged, and despite his bold recommendations, he's not sure if admissions will drop that much this winter.
"I don't quite understand why there's been significant reluctance to get bivalent boosters. I think I'm the first to admit that these vaccines aren't perfect. They're not going to give you 100% protection against COVID-19. And maybe people are saying, 'Okay, booster I got it, but I got COVID,' so there's some doubt there because they're hearing it," Marks said.
But vaccination will still reduce the chance of contracting the virus and keep people out of the hospital, he said.
"Even if it's not perfect, it's the best you can do," Marks said. "I will repeat something that has served me well to this day, which is that perfection is the enemy of goodness."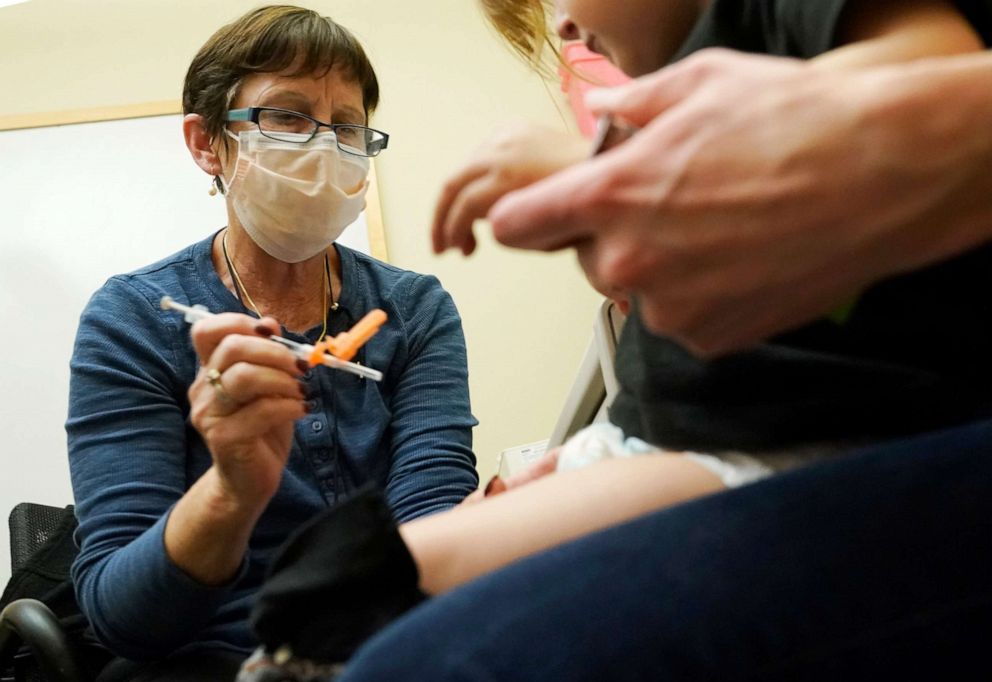 Marks encouraged vaccination and boosting, especially before the winter season, when he predicted cases would spike and hospitals could be strained by a combination of severe RSV and flu cases.
Already, wastewater control systems across the country have seen an uptick in COVID-19 cases, and Marks called the rising trend "alarming."
"From what I can see in the recent past, I think the good news is that we're not going to see the number of deaths that we've seen in previous winters. There's a lot of work to be done," he said.
"We're also seeing significant increases in hospitalizations and declining deaths starting to pick up again. When people see that, my guess is that it will potentially make them think about that," Marks said. "I wouldn't expect that though."