Excerpted from the Winter 2022 issue of Dazed. You can get a copy of our latest issue here
St. Louis, Missouri is home to the longest outlet mall in the world. Located just off Route 370, it was once a beacon of commerce: a multilevel metropolis of fast food and fashion chains, an antidote to the bleakness of suburban life. But, like thousands of malls across the country, a decades-long economic downturn forced it to close in 2019. "There was nothing like that, so we stayed at home," says Angel Prost. She refers to Lulu, her younger sister and the other half of pop duo Frost Children. They grew up together in St. Louis, nicknamed by locals as the commercial center of Missouri. But while other kids are hanging out at the mall, the Frost Children have found a new, spiritual home: the internet.
Speaking on Zoom from their shared apartment in Ridgewood, Queens – "We use Lulu's room as a studio," they say – the pair are part of a new crop of artists to break out of New York's center stage. Emerging from the pandemic, these extreme online creatives and tastemakers span the worlds of fashion, art, and media with their savvy internet personalities spread across Substacks, podcasts, and meme accounts. "I'm definitely a hyper-online person," says Angel. "I actually post a lot on my Instagram story these days; I write almost all my thoughts in a live journal. To be honest, I don't see any problem with it." His TikTok is also an extension of these everyday musings, rich in grounded and ironic musings that flourish on the internet. "These are real thoughts I have, it's not like I'm smeared and brain dead from hyper posting. It's just a tool, like writing in a magazine, but it's going online."
Online and IRL, the downtown scene isn't defined by one style or sound, but instead covers the entire umbrella of art, ideas, and bands. There is a self-sustaining ecosystem of artisans eager to collaborate with the micro-neighborhood in the heart of Dimes Square. Angel recalls meeting Blake Ortiz-Goldberg AKA Blaketheman1000, the rapper behind the wildly popular track "Dean Kissick," through DMs after reading one of his articles in a local newspaper. Drunk Channel. Ortiz-Goldberg now runs the group, holding weekly meetings at Ming's Cafe on Canal Street. "There's an infinite number of scenes: the Dare-Strange-Ranger-Porches world, the more rave Rash-Club-Cringe-Heaven DJ thing," he says. "We operate in both worlds at the same time. And they're really happening now."
"The era of referential art is growing very fast in terms of music" – Angel
Balancing on the cusp of the underground electronic scene and the burgeoning indie revival, Frost Child's music is hard to define. It's an extremely online, remix culture-influenced sound that will be labeled hyperpop in 2020, but has since evolved into a fluid style spanning everything from synth-pop to punk rock and hardstyle. "Lately, when people ask us what kind of music we're making, we say it's a secret, but other times we'll say we're new pop artists," says Angel. The Golden Age was inspired in equal parts by YouTube and 00s kids TV shows iCarlytheir music is full of playful Web 1.0 seriousness, with glitchy sounds and samples of YouTube poop that throw the listener into states of digital confusion.
"The referential art era is growing very fast in terms of music," says Angel. "I saw a tweet that said: Who will do the hyperpop revival? [Like] "Wow, this beat is 2020 hyperpop." We all know what that means and what it sounds like. But 15 years ago, we would have said that this song was three years ago. You'd have to be really high on the pop production iceberg to know what that meant. I'm interested to see what happens when it collides with itself."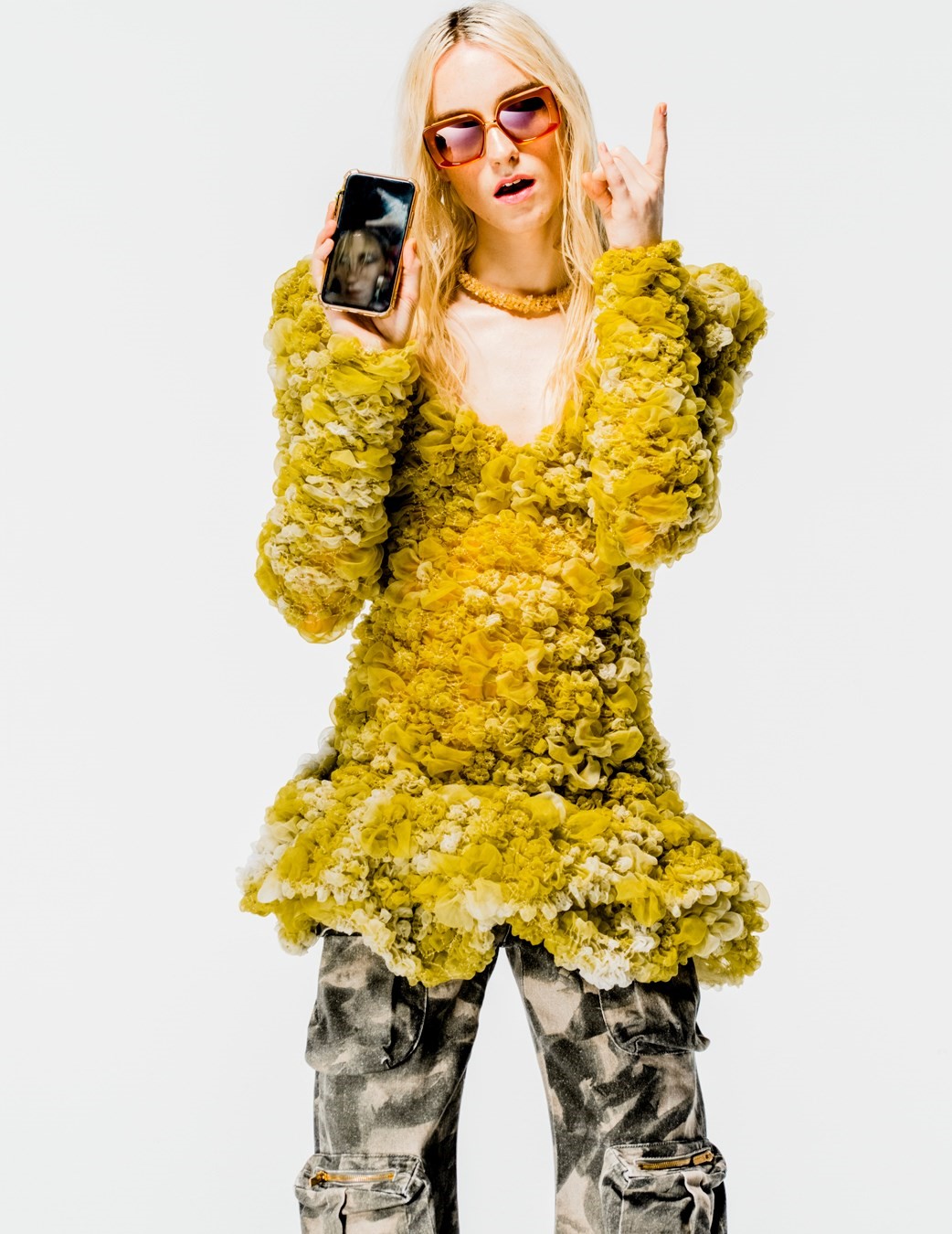 The pair are already known for their raucous live shows: it's not unusual to see them strutting around the stage with a giant pair of grinning, papiermache Mesaryth stars (the official Frost Children emblem) or wearing inflated SpongeBob costumes and battle-raping each other. as part of their side project YourBoySponge. "I think our approach is that whenever you're given an opportunity to do something, do it to the fullest," Angel says. It's down to the pair's stage presence, which is more reminiscent of a big-room DJ than a burgeoning pop act. They owe it to years of watching EDM shows like UKF Dubstep and Ultra Miami. "Angel was Deadmau5 and I was Skrillex," Lulu said with a smile. Angel adds, "Those shows influenced our style of performing as if we were on stage, even if it was a room of 200 people and we didn't necessarily play that sound."
Even though we're talking through a computer screen, the conversation doesn't feel awkward at all – it's no different than talking to a regular internet friend. "Our stage persona is something in our head that we can turn on and off at any time," says Lulu. Together, they have an almost mental connection that can only come from being close siblings. "We grew up together, live together, make music together, perform together, tour together. It's always cool," says Angel. "But at one point we had competing YouTube channels."
The Frost Guys have played some of their formative shows in quarantine, DJing at Zoom nights like LA-based Subculture, and their hyper-online music is combined with a clear URL aesthetic designed to appeal to even the slickest brains. . But making music that reflects the frenetic pace of the internet is no easy task. Trends move faster than memes and fall victim to the eternal scroll. It's something the pair look to tackle with future releases, FAST RUN and Hearth room. "It's the arc of an artist's lifetime but condensed into two short albums," says Lulu. FAST RUN is "the-pop-artist-big-ego-paparazzi" album and Hearth room is his "ego-death-lifestyle-above-the-state" companion.
That night, Frost Children play a show at the two-year anniversary party for zeitgeist newsletter Perfectly Imperfect, alongside indie darlings The Hellp and the likes of PC Music's Lifetime. The pair's set grows at lightning speed, with a sensual loading of memey ideas and catchy melodies that penetrate deep into your skull. "A lifetime project of music creates so many different vibes, arcs, and stages in such a short amount of time, it's almost unbelievable," says Angel. "It's a great way to be a performer in the post-internet era."
DAY ONE hair by LUCAS WILSON, makeup by JANESSA PARÉ at THE TOGETHER COMPANY, nails by ERI HANDA for FACULTY AT HOME, photography assistants PATRICK LYN, NICK GRENNON, styling assistant ASHLEY ZIELINSKI, digital camera XIANGYUN CHENLM
Join the Dazed Club and be a part of our world! You get exclusive access to events, parties, festivals and our editors, plus a free year's subscription to Dazed. Join today for £5 a month.