Introduction
Despite losing ~30% of its market cap (or $750 billion) over the past year, Microsoft ( MSFT ) continues to be a Wall Street favorite. Of the 29 analysts covering the stock, 26 rate it a Buy, the rest Rate as "Save".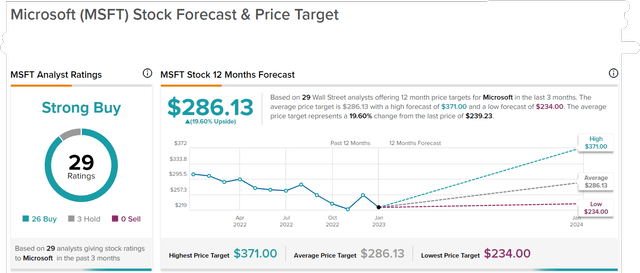 Top banks such as Goldman Sachs ( GS ), Morgan Stanley ( MS ), Bank of America ( BAC ) and several others named Microsoft a "top pick for 2023." And Microsoft's love affair with Wall Street isn't limited to sell-side research desks. By late 2022, Microsoft had overtaken Amazon as the most popular hedge fund bet. Obviously, everyone loves Microsoft!
While the macroeconomic environment remains uncertain, two of the biggest headwinds for tech stocks — inflation and interest rates — are turning into tailwinds. Simply put, higher inflation reduces the value of future free cash flow, and higher interest rates result. at a higher discount rate (lower net present value for a given cash flow) in discounted cash flow modeling. As you can see, inflation has been cooling for months now (December CPI: -0.1% m/m) and interest rates (especially long-term treasuries yields) have been softening rapidly (10-year treasuries are lower than in recent periods) from ~4.3% Highs up to ~3.4%.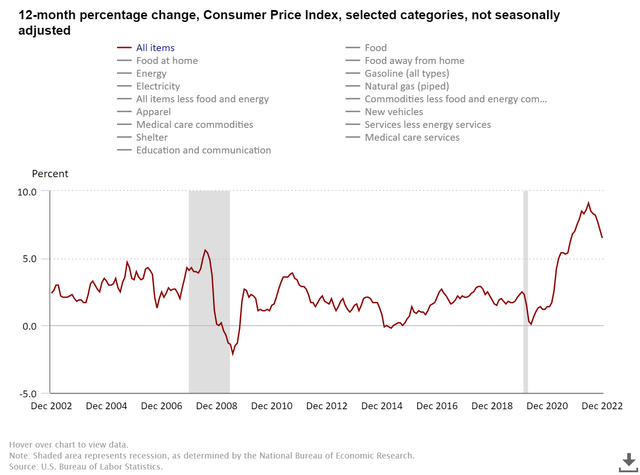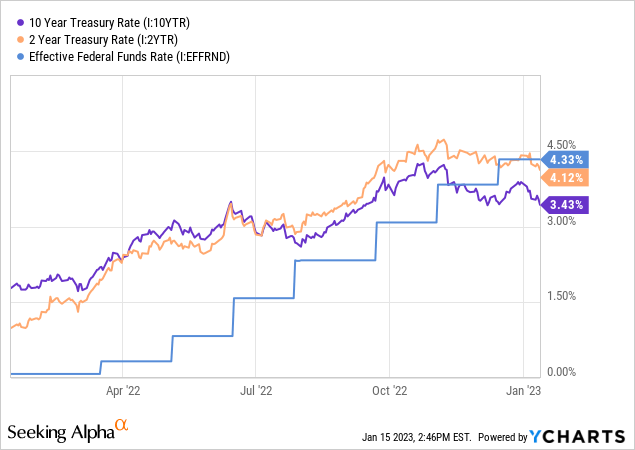 With inflation and interest rates cooling in recent weeks, Mr. Market is excited about a potential rebound in stocks in 2023, particularly in the subdued technology sector. Since the turn of the year, the S&P 500 ( SPY ) and Nasdaq 100 ( QQQ ) are up 5.5% and 4.2%, respectively. Despite the wide bounce in the markets year-over-year, Microsoft's stock is surprisingly flat.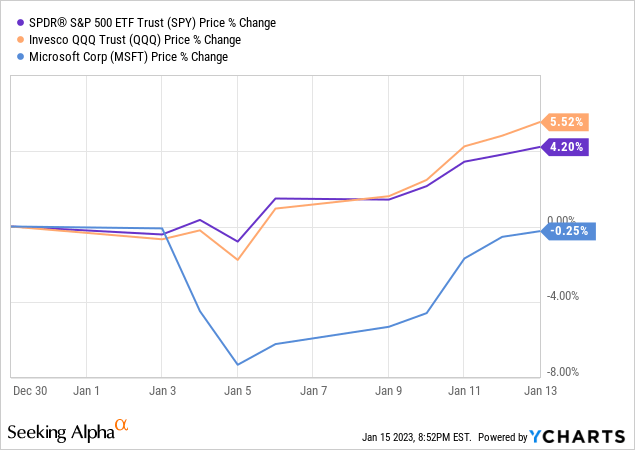 Microsoft is one of the best businesses on the planet and everyone loves its stock. So why are we seeing this abnormal relative underperformance in early 2023?
On January 4th, Microsoft shares fell ~5% as Satya Nadella (Microsoft CEO) issued a stark warning for tech investors, and UBS downgraded Microsoft from Buy to Neutral, citing slowing growth in its cloud business. While I don't really care if an analyst downgrades Microsoft, I think growing investor concern about medium-term growth in the Redmond-based tech giant is highly warranted given its high valuation.
In an interview with CNBC, Nadella presented a grim picture for tech companies:
The next two years are probably going to be the toughest because we've had a lot of acceleration during the pandemic and some normalization of that demand, and on top of that there's been a lot of real slack. parts of the world. The combination of a pullback and a recession means we're going to have to adjust."
To be honest, Satya's words sounded to me like a succinct summary of my 2023 forecast for tech stocks:
What is the 2023 Forecast for Tech Stocks? (NASDAQ: QQQ)
While the Fed is still draining liquidity from our economy, the overpriced stock market is facing the double whammy of an earnings recession and multiple trade contractions. Microsoft is a fantastic business, but it's not immune to the broader economy. The tech giant is set to release its Q2 2023 report on January 24, 2023, and based on Nadella's warning, I think this report could be a rude awakening for investors. In September, we discussed Microsoft's forecast for the second quarter of 2023 and its management's dour commentary on the economy in the following report:
Microsoft: Insider Sales, Bubble Pricing, Deteriorating Fundamentals, and More (

NASDAQ: MSFT

)
In today's note, we'll take a look at Microsoft's valuation and examine its spec sheet and QF values ​​to see if it's a value buy right now.
The biggest problem for MSFT is that it is overvalued as earnings go into recession!
While collapsing inflation and easing interest rates are tailwinds for Microsoft stock, the demand environment could worsen as the recession hits us. Yes, Microsoft will be more robust than most; however, it is not immune to the broader economy. Depreciation in USD for this quarter [USD] can compensate to some extent for the slowdown in demand; However, Microsoft's near-term growth looks unlikely.
Over the past six months, Microsoft's revenue and earnings estimates for fiscal 2023 have declined by ~3.5% and ~6.5%, respectively. The upcoming quarterly report could lead to further analyst cuts depending on financial performance in the second quarter of 2023 and management's guidance for the third quarter and the rest of this year.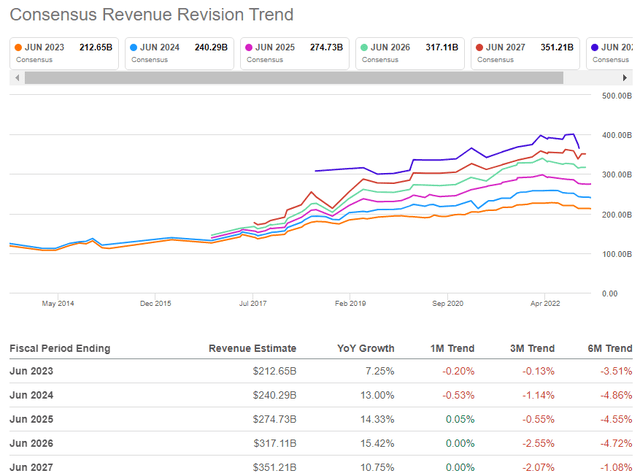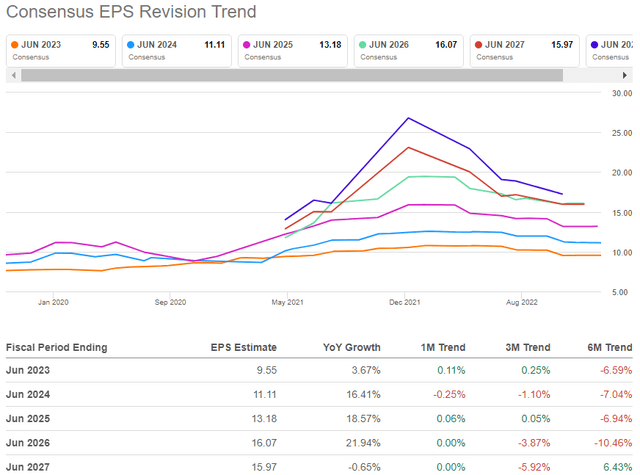 For fiscal 2023, Microsoft is expected to grow its revenue and earnings by 7.25% and 3.67%, respectively. With this sharp growth slowdown, Microsoft looks very expensive on a Price-to-Earnings basis. Additionally, Microsoft's free cash flow yield of 3.5% is currently lower than most (risk-free) Treasuries. The complete absence of an equity risk premium means that Microsoft values ​​excellence and there is absolutely no room for error.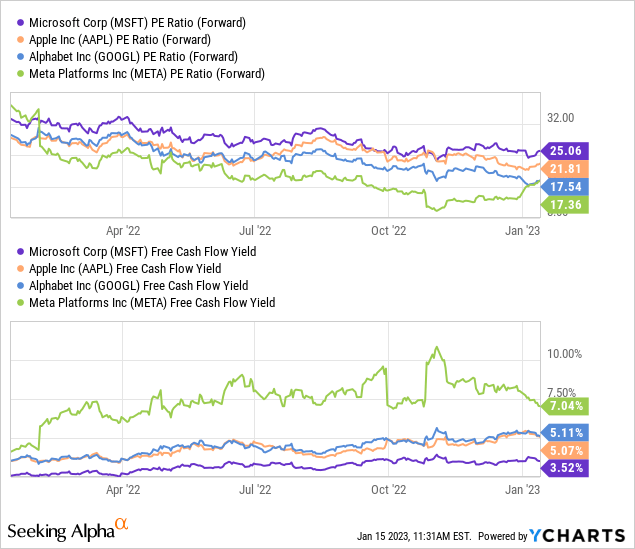 Personally, I don't think that these analyst estimates are sufficiently moderated, meaning that recession is not included in these numbers. During the GFC [2007-09], Microsoft's annual revenue growth reached -17% and operating margins were squeezed significantly. Since last quarter, Microsoft's y/y growth has slowed to ~10.60% and operating margins have also started to decline. If we experience a severe economic downturn, Microsoft's revenues and profitability could suffer materially.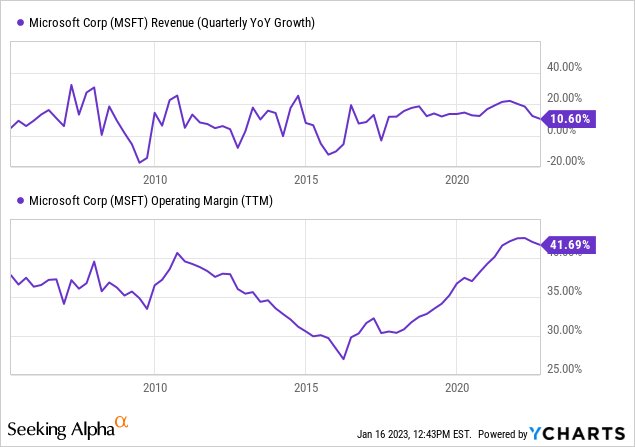 In my view, Microsoft's stock (trading at 25x P/E) has not even priced in the ongoing growth slowdown. What if we go through a deep recession? Yes, your guess is as good as mine, but I think Microsoft stock could fall significantly below current levels. With all of this in mind, let's reassess Microsoft's fair value and expected earnings.
Updated Pricing for Microsoft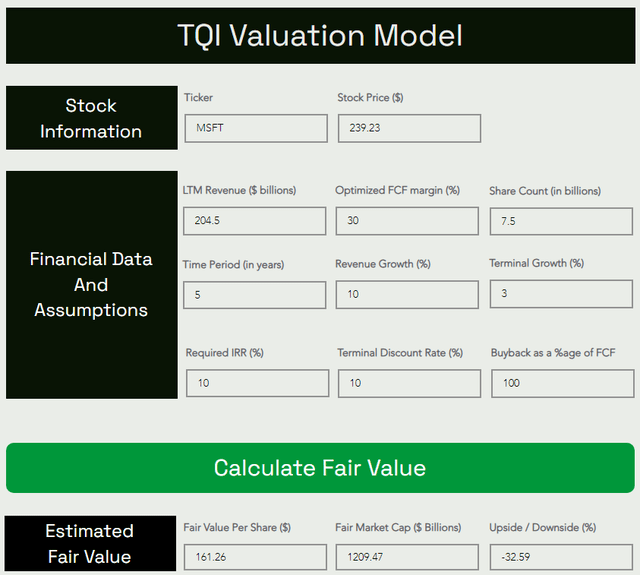 Based on TQI's Valuation Model, Microsoft's fair value is ~$161.26 per share (or $1.2 million). With the stock trading at ~$239 per share, I think it still trades at a premium for its value.
It is impossible to predict where a stock will trade in the short term; but over the long term, a stock will follow its business fundamentals and obey the immutable laws of money. If interest rates were depressed, higher capital multiples could be justified. However, I am working under the assumption that interest rates will ultimately follow the long-term average of ~5%. By inverting this number, we get a trading multiple of ~20x. Because Microsoft's scale and business quality are highly valued, I set a core exit P/FCF of over ~25x.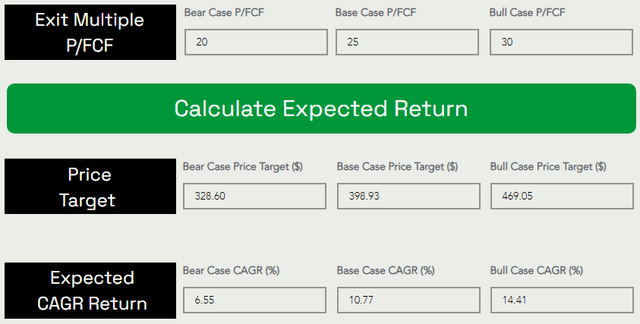 By 2027, Microsoft could grow from ~$239 to ~$399 at a CAGR of 10.77%. Even though Microsoft offers a double-digit CAGR, I'm still sitting on the sidelines here because of the huge difference between Microsoft's intrinsic value and its current share price.
In the event of a downturn, we may see Microsoft re-track its fair value (and who knows, possibly move to the downside). So I see 30-35%+ low risk in MSFT. He said that I own shares in Microsoft and do not sell here. If Microsoft fell to $200, I would start buying again.
MSFT's Technical Chart and Quantitative Factor Prices
Microsoft shares have been on a correction for more than a year now as its trading multiples normalize in a higher interest rate environment. With tech stocks showing signs of life in early 2023, Microsoft bulls are hoping for an upward breakout from the descending wedge pattern shown in the chart below. If we go higher, the first target will be the range of ~$265-$280. In my opinion, Microsoft's report will be decisive in determining the future path of its shares.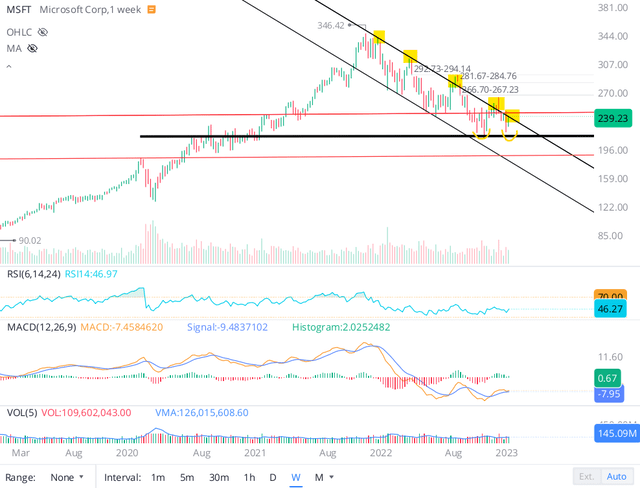 As of today, the stock is stuck in a falling wedge pattern. From a technical perspective, the stock may continue to trend lower and test the lower end of the falling wedge pattern. I think the $200-220 zone (200-DMA level) should act as a support for the stock; however, if it fails to stay above this range amid declining earnings (recession), then we may test pre-Covid levels of $170-180.
According to Seeking Alpha's Quant Rating system, Microsoft is rated Hold with a score of 3.35/5. While Microsoft's superior profitability has an "A+" rating, the Momentum and Revisions (earnings) factors have deteriorated from "B+ to C" and "C to F" over the past six months. Given that Microsoft's sales are growing ~10-12% annually, a "D" factor rating for Growth makes sense. After looking at Microsoft's absolute rating, I think the Rating factor is fully deserving of an "F" grade.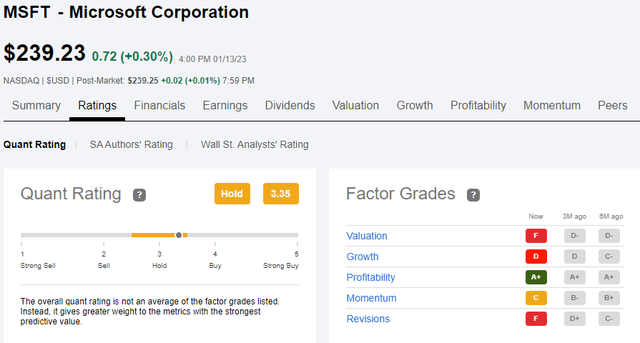 Based on a mix of fundamental, quantitative and technical data analysis, Microsoft stock is currently not a buy.
Final Thoughts
Heading into next week's earnings release, Microsoft stock looks poised for a significant move (up or down) based on its technical chart. While the macroeconomic environment remains uncertain, Microsoft can continue to maintain its safe haven status by being more resilient than its peers—like a good house in a bad neighborhood. Past headwinds — high inflation, rising interest rates and a strong U.S. dollar — have all turned into tailwinds in recent weeks.
While some macro headwinds have turned into tailwinds, rising wages and subdued demand (due to a weaker IT spending environment) will further slow growth rates and squeeze margins at Microsoft! As I see it, Satya Nadella's latest warning should be taken seriously by all investors.
At ~25x P/E, Microsoft looks expensive relative to peers and the market (S&P 500 P/E: ~18x). I continue to believe in Microsoft as a business; however, the stock is overloved and overvalued. The risk/reward is unfavorable for a near-to-medium-term investment, and so I'm happy to sit on the sidelines until Microsoft falls to $200 or the valuation improves over time.
Key Takeaway: I rate Microsoft a Hold/Neutral/Avoid at $239.
Thanks for reading and happy investing! Please share your questions, thoughts and/or concerns in the comments section below or DM me.